Hope Reborn by Caryl McAdoo

Historical Christian 'Western Adventure' Romance NOVEL, Hope Reborn, is Book 3 in Caryl McAdoo's Texas Romance series.
Set in 1850, it tells the story of May Meriwether, a successful New York dime novelist thinking life is slipping away unfulfilled. She's bored with the same old heroes and heroines and stories and Uptown social circles. Then she spots an interesting article in the Tribune. Texas Ranger Levi Baylor and his Captain Wallace Rusk have captured the Comance War Chief Bold Eagle.
The wheels start turning. Throwing caution to the wind, she charges her companion Chester to arrange passage to Texas for the both of them. The Rangers will be wonderful hero models for some fresh stories wrought with adventure and intrigue. May couldn't know the troubles she'd find in Texas and what she could lose there in the new wild west state.
Hope Reborn follows Book 1 Vow Unbroken set in 1832 and released by Simon and Schuster's Howard Books March 4th, 2014 wherein Levi is the orphaned nephew of Susannah Baylor, a gritty young widow scratching out a living from the untamed Texas prairie.
And Book 2 Hearts Stolen that debuted September 5th, 2014 indie published by Ron and Caryl McAdoo. Twelve years have passed and young Levi Baylor is now twenty-six and making quite a name for himself as the Ranger who always gets his man.
Dispatched to the peace camp of Comanche Chief Bold Eagle to pick up the stolen white woman bargained for in Sam Houston's treaty, But the beautiful redhead he spots Sassy Fogelsong, a girl from back home he happens to notice, but her name isn't on his list.
My Review:
Let me start with this, I have not read the first 2 books in this series, but I intend to now!
I instantly fell in love with May Meriweather. She is a very strong woman and successful writer, but she's bored. One look at the article in the newspaper and excitement sets in! I love the way she throws caution to the wind to seek adventure and get inspiration for her new books. With her trusty 'friend,' Chester, she embarks on her journey to Texas. Unknown to her the true lessons and inspirations that meet her there.
I wish I could tell you all about this book from beginning to end, but that would ruin the point. This is a must read for all historical fiction fans.
Stay tuned for my review of the next of her books! This author has a new fan!!!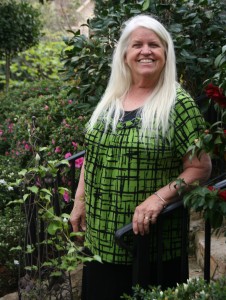 In April, 2012, Caryl met Mary Sue Seymour at NETWO's Spring Conference and wrote her first historical Christian romance set in the 1800s especially for the agent. (Whose maiden name was remarkably 'McAdoo'!) Mary Sue offered representation in August, and VOW UNBROKEN sold in October to Howard Books, an imprint of Simon & Schuster. It debuts on March 4, 2014.
Six months later, book two in the Texas Romance series debuted, HEARTS STOLEN set in 1839-1844, Then two months later a new Biblical fiction series The Generations was born with volume one A LITTLE LOWER THAN THE ANGELS, the story of Adam and Eve, Cain and Sheriah, and Abel in Paradise with a kindly old cherub named Namrel!
Caryl, also known as Grami, has fourteen grandsugars (one more than she has books now) and enjoys painting and gardening. A proclaimed psalmist, she's dedicated to serving God, loving praise and worship and that He frequently gives her new songs. Caryl believes all good things are from Him and prays her new books will minister His love, mercy, and grace to her readers.
Disclosure: I received a free copy of this book/Ebook/Product to review. I was not required to write a positive review nor was I compensated in any other way. The opinions I have expressed are my own. I am disclosing this in accordance with the FTC Regulations. I am part of The CWA Review Crew.