Have you ever read a Bible story and wondered about the background of the people? This is something that I do on a regular basis. I wonder what was going through Esther's mind, the lady with the issue of blood, and what about Hannah after she gave Samuel to Eli in the temple. I have found a love for books that take the Biblical accounts, mix them with historical fact, and add in a little imagination to follow people in the Bible that are simply mentioned for a chapter or two.
Imagine my delight when I was given the opportunity to review a book exactly like that!
Peggy Consolver - Author
penned a story about the Gibeonites of Joshua 9-10 called: "
Shepherd, Potter, Spy--and the Star Namer
."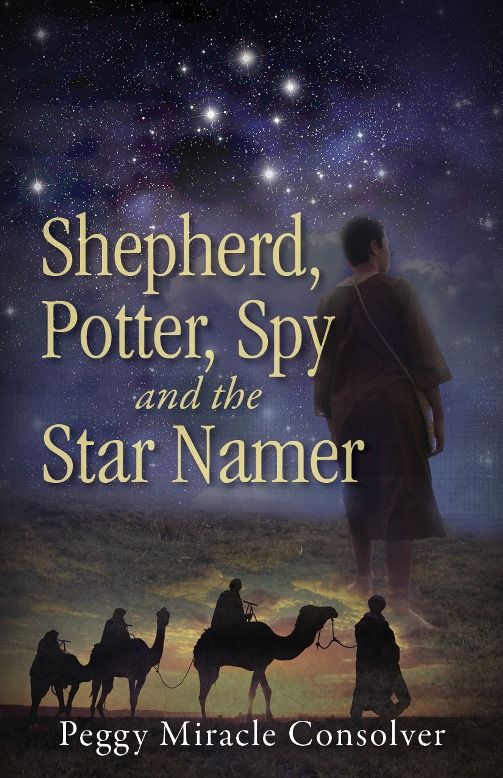 When I first received my copy of "Shepherd, Potter, Spy -- and the Star Namer" in the mail, I had to go back and reread Joshua 9-10 in my Bible. So little is said about these Gibeonites that I hadn't ever thought about them. After I read about them again I wondered how Mrs. Consolver was going to bring these people, who were barely mentioned, to life.
In the beginning of the book we are introduced to Keshub, a young Gibeonite boy who is tending the families sheep in the morning and learning to become a soldier in the afternoon. His real dream in life to see and experience adventure beyond the confines of Gibeonite territory. Little does he know the adventures that await him.
As I read through this book, I was made aware, for the first time ever, of the other people, the ones that lived in Canaan before God gave it to the Israelites. I never thought about the rumors that went through camps, the fear of impending defeat by a group of foreigners taking over land, the question of whether or not you would survive an attack and if you did survive, where would you live?
This book opened my eyes to the other side. I am not going to even pretend that there weren't questions about why it had to be this way. I spent several days in prayer trying to find peace in God being all knowing, all powerful, and just even though my heart was aching for these people groups being forced from their lands. I had always lived with the understanding that Canaan was the promised land to God's people. I just never thought beyond that.
This book challenged me to dig deeper. I am still in the process, even after 6 weeks, of studying the Gibeonites (descendants of Ham). I do not understand everything, but I am searching. My next search will be the Amorites and their selfish king.
I love history and this book helped to create another layer of history to the Bible stories that I had never thought about! I think it is a perfect way to start learning and teaching the Bible from a point of historical context. It has definitely sparked a new interest in me!
When I originally requested to review this book, I intended on having Popper read along side me or even co-read with me. However, after reading the first couple of chapters we discovered that this book was simply too advanced for him and I chose to read it alone. I think this book is geared more towards upper middle school/high school to adults. I am definitely going to have my kids read this when they are older to help teach them to dig deeper into their Bible stories.
There is also a study guide available for this book. It has maps and keys to help the reader visualize where the events are taking place. The guide includes a couple of links per chapter to videos or resources to help you better understand parts of the story. It is a great addition for helping to get a better grasp on the book as a whole!
About Peggy Consolver
The author, Peggy Consolver, is was raised in Oklahoma where she graduated from Southwestern Oklahoma State University. She taught in a Dallas high school for a while and then enjoyed being a stay-at-home mom to her 2 children. She now enjoys teaching Sunday School and women's Bible studies that challenge women to dig deeper into the stories!
Mrs. Consolver had started writing "Shepherd, Potter, Spy--and the Star Namer," but was struggling to make the story come alive. She decided to take a trip with a couple of her friends to visit Israel and walk where the Gibeonites, that she was writing about, actually lived. Through a sequence of events she was able to spend 18 days with the Associates for Bible Research in Israel in 2010. Here the story of Keshub and his family came alive to her and she was able to write about their experiences from a place of better understanding.
You can connect with Peggy Consolver-Author on Facebook.
As usual several of my Crew-mates read and reviewed this book as well. You can read their thoughts about it by clicking the link below: