Last year at our homeschool convention, my husband saw this amazing online art program that he raved to me about for weeks months. The problem was he could not for the life of him remember the its name. Luckily for him, the Crew had an upcoming review product that would help us learn its name: Creating a Masterpiece. We were given the privilege to review their Monthly Plan. Daddy T is the artist in our home and was elated to finally be able to try that infamous (to our family) art program that he had raved about for the past year. The kids soon joined in his excitement!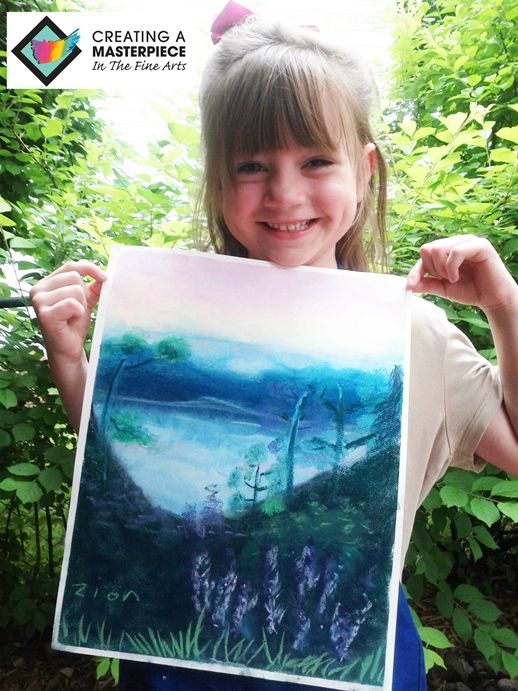 (This image is provided by and is precious to Creating a Masterpiece. I thought it special to include it in my review. I think it is wonderful and shows what is possible in children of all ages using this program.)
As we began to scroll through the projects available, I tried to keep the kiddos in the Beginner's section. I lost that battle as soon as they found the Lessons in Colored Pencils: Tropical Clown Fish. I should have known. There isn't a child that I know that wouldn't have wanted to try it first. Since we already had the supplies needed to start this project, I relented.
Daddy T, Popper, Brother Bear, and Sister were the first ones to try out the program. They got everything set up and chose to work on it while I was busy with dinner prep. I loved seeing Daddy T get to be involved with them!
We tried to work through one lesson a week. This would have been a perfect pace for Popper, but Brother Bear and Sister needed a little more time to work. We ended up having to pause the video for them to catch up several times. I have to say, I really appreciate that aspect of the videos, it definitely made learning and assisting easier.
I love the finished projects! We learned a few things through this first project. First, quality does matter. We used colored pencils that we had a home. Since then, we have purchased nicer ones for the next time we need them. Second, Brother Bear and Sister do not have very long attention spans. You will notice the extra drawings on Brother Bear's page. He got a little bored while Daddy was helping the other two. We learned very quickly that on the longer lessons we needed to split them up and complete them in two days instead of one.
For our second project we chose to work as an entire family and complete the Lessons in Acrylic: Caribbean Lighthouse. We purchased everyone a canvas, made sure to get good quality acrylics, and we began. When we started we used cans to prop up our canvas. However, the next weekend I found great easels for cheap at a thrift store. These proved to be extremely useful!
We really enjoyed working on this as a family! Once again, I will brag on the fact that we could pause the videos to catch up and help each other when someone missed something or got a little behind. There were some great memories made during family art time. We want to make this a permanent thing at least one night a week!
We learned a
nother lesson with this medium: acrylic paints take time to dry. The above picture was after the first night. If you'll notice we were all at different points. The littler ones attention spans were shot, we older ones were helping the younger ones. Needless to say, we had to back track a bit the next art night to get us all together before starting the next lesson.
Drying time and attention spans made my plans go straight out the window. I wanted so desperately to have this one completely finished to show you a final product before I posted my review. Since that wasn't an option, and I did not want to rush these beautiful creations, I am simply going to be able to show you our work in progress pictures.
We still have 2 more full lessons to complete before this picture is finished. After working through this program the past several weeks, I am learning to appreciate art even more. I understand what artists go through to create masterpieces!
I cannot say enough good things about this program! Daddy T and I have decided that after our 6 month subscription is finished, we will absolutely be purchasing a year long membership. There are so many great projects to create. I love seeing each child's personality come out in their artwork.
You can connect with Creating a Masterpiece on Facebook.
Other members of the Crew reviewed this as well. You can read about their experiences and view the projects they chose to complete by clicking the link below: