We are a superhero loving family. The influx of movies that are superhero based, but not always family friendly have made it difficult to allow our kiddos to enjoy their favorites. We have struggled to help our boys find a way to enjoy the world superheros, and still honor God's word by being careful what they watch on TV. Needless to say finding out that Focus on the Family had created a superhero named Captain Absolutely made this momma incredibly happy!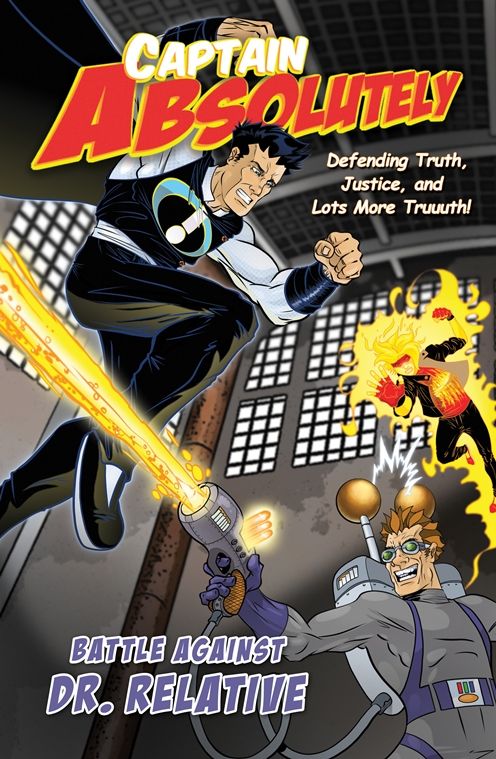 I learned that Captain Absolutely was originally written for Focus on the Families Clubhouse Magazine by Wooten Z Bassett and Illustrated by Dennis Edwards. It was ran over a 5 year period and has now been compiled and turned into a 105 page full colored comic book.
A little summary:
Captain Absolutely was originally a librarian names Josiah King. One night there was an explosion caused by sunflower seeds, a computer, and of course nuclear power (this is a superhero comic after all)! This turns Josiah into Captain Absolutely! He finds himself trapped in the library reading the Bible! After he gets out of the rubble,
Captain Absolutely begins to battle Dr. Relative using the Word of God and the truth that it holds!
Popper was thrilled when this book finally arrived. He disappeared into his bedroom and began devouring it! He excitedly came in from time to time to tell me that he would pop-in and tell me things like:
"Hey Mom, Captain Absolutely was a librarian and there was this big explosion...."
"Did you know that Captain Absolutely helps others by using the BIBLE! That's so cool!"
"Look, Bible verses in the pictures, that's awesome! Where's my Bible?" (probably my favorite comment!)
I loved that not only was he reading (which is sometimes a struggle for my boy) but he is reading a book that is based on the truth of God's Word!
There were several times that I went searching for him and found him up on his bed reading. It was so good to see him excited about reading! Usually, reading is a struggle and can sometimes lead to tears. Not with this book! He was/is thoroughly enjoying every page.
It wasn't long before the other 2 caught on that this book was a good one and began to beg for Popper to read to them. This is how I found them that night as they were supposed to be getting ready for bed. He was reading (out loud!) to his younger siblings! I cannot adequately express my excitement when I saw this other than I cried. They all are hooked on Captain Absolutely and his adventures battling Dr. Relative!
My favorite part, they are getting Biblical truths that they may not even be realizing!
In the back of the book there is a character outlines that teach more about each character, but also includes a Bible verse that corresponds with each character.
Also in the back, two pages entitled "Big Questions." These are questions that help put the truths learned in the story into real life scenarios
for the children. These are great discussion points for us as we help our kiddos navigate life in Christ!
I decided to ask Popper what his thoughts were on Captain Absolutely. Here are his responses:
What is Captain Absolutely about?
"There was an explosion at the library. Josiah King, the librarian, finds the Bible. While he waits for someone to save him, he begins to read the Bible. Then he becomes Captain Absolutely and starts his adventure with Hana, a girl who becomes his side kick. They start battling bad guys using the Bible."
What did you think about the story?
"I think it is a good way for people to learn about the Bible. Because it uses Bible verses throughout the book to show how Captain Absolutely is battling the bad guys."
Do you think other kids your age (8) would like this book?
"Yes!"
What was the main point of this book?
"To tell people about the Bible."
I think this book has been a great addition to our home. I have never seen Popper read with such excitement! I think this book would be great for superhero loving kiddos of all ages!

You can connect with Focus on the Family:
Facebook
Twitter
Pinterest
Instagram
Google+
YouTube
Other members of the Homeschool Review Crew had the opportunity to review Captain Absolutely as well. You can read what thought by clicking the link below: