With three boys in our home, discipleship and raising godly men is a constant topic of conversation for Daddy T and I. We pray that God will show us ways to better connect with our boys and to lead them to become godly men that are capable of leading a home. Of course this means we are always on the lookout for ways to help us to connect with them and to share more of God with them. Recently, an opportunity came to us through the Manhood Journey Father's Starter Kit by Manhood Journey & City on a Hill. Daddy T and I were both excited to find a resource that was geared towards a dad and son discipleship. We could not wait to get started!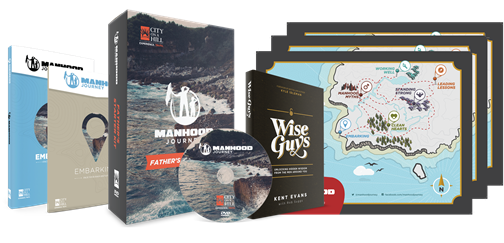 The Manhood Journey Father's Starter Kit contains a copy of the book "Wise Guys: Unlocking Hidden Wisdom From the Men Around You" by Manhood Journey co-founder Kent Evans, Two different discussion guides: one for a group setting and one for a one-on-one setting, a DVD of the introduction videos for each session, and ten Maprochures.
The discussion guides are broken down into 6 week sessions that meet once per week. These include:
1. Preparing for the Journey.
2. Setting out on the Journey.
3. Relying on the Compass.
4. Seeking guidance along the way.
5. Encountering others along the journey.
6. We have embarked.
The Manhood Journey Father's Starter Kit is designed to allow dads or male role models to come along side boys aged 8 to 17 and disciple them using using five vital principles outlined in the guides.
In the beginning of the one-on-one guide there is an Introduction that helps dads or role models get 'ready' to embark on this journey with their son(s) or boys in their group. It also provides discussion questions to help get they guys talking. This is the first of six 6-week guides to help disciple young guys.
Overall, I thought this was a fantastic product. I loved the conversation starters. I think those really help to open up conversations that wouldn't usually be discussed on a regular basis, but are important to help walk along side and disciple young men. For example, one of the questions,
" What do you think it takes to go against the crowd?"
This is a hard question even for me. I think it is great to get my boys talking with their dad about these important topics to help them make plans, pray together, and build confidence in Christ to be able to go against the crowd!
My favorite part is the challenge to dads and sons to read the Bible and pray together. I think this is a great resource to help dads gain confidence in leading and discipling their sons. Daddy T has struggled with the fact that he wasn't raised in a home or a church that had discipleship. He has felt at a loss as to how to disciple our boys because of it. The Manhood Journey Father's Starter Kit was a great way for him to start on the path of discipling our boys.
I think this would be a great discipleship resource for men to use with boys in both a 1-on-1 setting and a group setting. I can see benefits to both.
You can connect with Manhood Journey on Facebook and Twitter. You can also connect with City on a Hill on Facebook and Twitter.
Other member's of the Crew got the privilege of reviewing Manhood Journey Father's Starter Kit as well. You can read how they used it and their thoughts by clicking the link below: