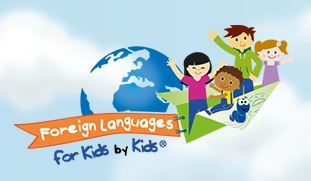 Daddy T and I have always wanted the kiddos to learn a foreign language. Recently they have been asking if I would teach them Spanish. I loved the idea, but wasn't sure where to start. I had 2 years of Spanish in public school, but had forgotten most of it. Thankfully, we were giving a chance to review Foreign Languages For Kids By Kids. The kiddos were super excited when we received a copy of their Spanish Program Starter Set 1.
This set included:
*A DVD with videos for levels 1-3
*3 Parent-Teacher Guides.
*Flash Cards for levels 1-3
*A card game
*Workbooks for levels 1-3
*Stickers for levels 1-3
The Teacher's Guide is great! It has detailed lesson plans, a video viewing schedule, and fun hands-on activities to help supplement the lessons learned! The guide explains that the activities are to help with the different learning styles. I was very impressed with how well it was laid out! I spent the first 2 days reading through it getting a feel for how the program worked and understanding the program.
The workbooks are very colorful and fun. Popper couldn't wait to get his hands on his! The pictures are very clear and matched the videos well. There were a variety of activities to help reinforce the lessons. It helped to really implement what he had been learning in the videos.
The kiddos loved watching the video! They begged everyday to watch it. I was planning on following the viewing schedule, but they loved the video so much I just allowed them to watch it. I was absolutely amazed at how quickly they picked up the new words. They were walking around repeating phrases and words that they heard on the video.
There were stickers that came with the pack, but I haven't let them use them just yet. However, we do randomly discuss the Spanish word for an item that we know when we encounter them. We went to my mom's house a few weeks ago to stay the weekend. She made the kids breakfast and they immediately began telling her 'gracias' and 'me gusta.' Nana was very impressed with how well they were picking up the new words.
There is also a card game called 'Go Squish.' It was a little advanced for my younger 2 so we haven't played it. However, I think it'll be a lot of fun when they are a bit older! The flash cards are a great resource for Popper. He would use them to quiz himself almost daily to remind him of the new words.
One day I went to get the dvd to start their video. I could not find it! For the next 30 minutes they walked through the house asking, "donde esta?" It was too fun! They are definitely loving learning new words and phrases in Spanish!
Other members of the Crew and their kiddos reviewed this product too! You can read about their experiences by clicking the link below: