Recently we were chosen to review Prima Latina Complete Set by
Memoria Press. I thought this would be a great way to help Popper get a head start on Latin before he began Classical Conversations in the fall. He was excited to learn it too.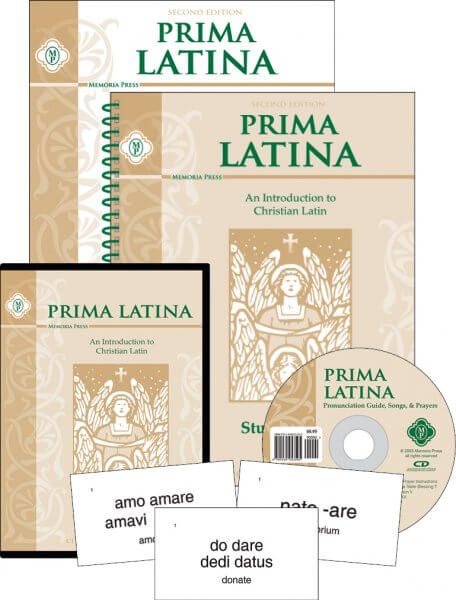 We received the Complete Set of Prima Latina which includes a DVD with instructions for each lesson by a Latin teacher, a CD which includes a pronunciation guide, songs, and prayers used in the lessons, flashcards, a Teacher's Manual and a Student's book. Prima Latina is the first level in the Latin studies by Memoria Press and is for first through third graders. Even though Popper will be in fourth grade in August, I decided to start with Prima Latina as his foundation. Their Latin programs all build on one another so he will be able to move to Latina Christiana with confidence when he is finished.
There are 26 lessons included in Prima Latina. We worked one lesson per week.
On Mondays Popper watched the instruction video on the laptop. This was so valuable to me. I have never learned Latin and therefore did not have the first clue as to how to teach him. No problem! The DVD has all the lessons taught by a teacher, Leigh Lowe. In the student workbook there is a page that correlates
with each lesson so that Popper could have a visual of what was being taught. Each week covers 5 areas: Practical Latin, the actual lesson (this is where the grammar to taught), Vocabulary, Latin Prayers, and Derivatives.
On Wednesday Popper worked on half his workbook pages that went with that weeks lessons. Each week has review questions about the previous weeks to help with mastery, questions about the current lesson, a section to translate the week's vocabulary words, Speaking Latin (which is where the pronunciation CD comes in), Write and Learn, and fun practice. Though it looks like a lot, it wasn't overwhelming. Popper actually enjoyed his workbook time. There were a few times when he couldn't remember the answer to a specific question. It was so nice that he was able to go back and watched the video to remind him.
Fridays were spent completing the Speaking Latin portion of the workbook while listening to the pronunciation CD and working with flashcards. We used this day to make sure that we both knew the vocabulary words and how they were pronounced before we moved on the the next lesson the following Monday.
I was so shocked to see how much Latin really did help with English grammar. I am learning just as much as Popper as we work through the lessons. I appreciate that this is a gentler approach to learning Latin. I think it is a great way to ease into the language. Memoria Press' website said that this is perfect for children who are reading comfortably. Popper is 8 and reading on a third grade level, but I think this was a perfect fit for him.
You can connect with Memoria Press online:
Facebook
Twitter
Pinterest
Instagram
Google+
YouTube
LinkedIn
Other members of the Crew reviewed this and other great products from Memoria Press both Latin and Science. You can learn more about these by clicking the links below:
Latina Christiana Complete Set
First Form Latin Complete Set
Second Form Latin Complete Set
Third Form Latin Complete Set
Fourth Form Latin Complete Set
The Book of Trees
Nature's Beautiful Order
Also you can read about the Crew's experiences using each one of these products by clicking the link below: