I must have been living under a rock, but I have just recently learned about a series of books that teach about American history: Adventures of Rush Revere #1 New York Times Bestselling Book Series by Rush and Kathryn Adams Limbaugh. After learning about this series, I was so excited to find our that we had been chosen to review all 5 books in the Adventures of Rush Revere Book Series.
On box day I was impressed with how beautiful these books are! The came just like you see above, wrapped together and tied with a blue satin ribbon! The beauty didn't stop there: the pages of these book are full color! Seriously! The pictures are both fun and historical. I knew that these would be a winner in the Crunchy Household!
Radio talk show host Rush Limbaugh and his wife Kathryn Adams Limbaugh wrote this fantastic series of books about a substitute history teacher named Rush Revere and his talking horse, Liberty. Together they use time-travel to teach the classroom full of students about American History. There are 5 books in all that each cover a different part of history.
Book 1: "Rush Revere and the Brave Pilgrim" Here we join Rush, Liberty and their student, Tommy as they travel back in history to learn more about the pilgrims aboard the Mayflower. I was impressed to see an actual copy of the Mayflower Compact in the book! As we were reading this fun fictional book we were actually learning about key parts of American History.
Book 2: "Rush Revere and the First Patriots" Rush and Liberty take more students along as they rush, rush into history and learn about key people like Benjamin Franklin, Paul Revere (Rush's favorite) and Samuel Adams. We see the beginnings of the revolt against England as the colonists get tired of all the unfair taxing by King George. Posters from The Sons of Liberty and newspapers of the day are used to bring history to life.
Book 3: "Rush Revere and the American Revolution" The rebellion is getting intense as Rush and Liberty along with students, Tommy, Freedom, and Cam visit soldiers during the American Revolution.
There is a special moment with Cam's dad in present day. He is a American soldier fighting in Afghanistan. I thought this was a great way to tie history to present for the kiddos!
Book 4: "Rush Revere and the Star-Spangled Banner" 1787-1814 are years filled with key people in our history. In this great book we learn about the Constitution, Bill of Rights, and the people who helped form the basis of our democracy.
Book 5: "Rush Revere and the Presidency" One of the students decides to run for student president. What better way to learn about presidents than time-traveling to meet the first 3 presidents of the newly free America?! In this great adventure we learn how hard those first few years as a new nation were.
Each night before bed Daddy T read a chapter to the kiddos. It became a highlight of our day. The kiddos loved hearing all the crazy situations that the time-traveling crew got into. Their favorite was Liberty and his constant eating!
With us starting cycle 3 of Classical Conversations this fall, this was a perfect read aloud to help us prepare to learn more about early American history!
I also discovered that there is a Homeschool Depot on their website compete with study guides and fun activities to go along with each book.
These books are a great resource for any family to introduce American History to their kids in a laid back, fun way!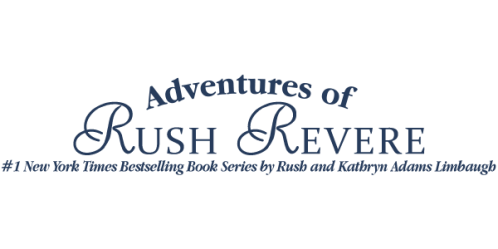 You can connect with Adventures of Rush Revere #1 New York Times Bestselling Book Series by Rush and Kathryn Adams Limbaugh online on
Facebook
,
Twitter
, and
YouTube
.
Other members of the Homeschool Review Crew received copies of the Adventures of Rush Revere Book Series too. You can read their thoughts by clicking the link below: