One of the struggles I have always had as a Christian is remembering that the Bible stories that I grew up hearing about, actually happened. I went to public school and learned all about world history, but I was never taught where those beloved Bible stories fit into that timeline. I knew this was something that I wanted to teach my kiddos. In fact, it is on my top 5 reasons why I homeschool!
Lately, I have been on the lookout for a way to help my family understand how biblical history and world history intersect. When we were given the opportunity to review
Drive Thru History®
's
Drive Thru History® – "The Gospels."
,
I knew I had found a key to help in my quest to teach and learn how it all worked together at the time that Jesus came!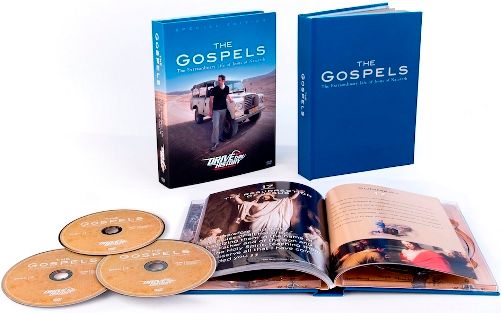 We received a 3 disc DVD set that includes 18 thirty-minute-episodes and a study guide. It was all packaged together in a nice folder style case.
The study guide was a great resource for me to make sure that my younger kiddos understood what they were watching on the videos. Each video had corresponding pages in the study guide that included a key verse or quote from the episode, a summary, discussion questions, and a reading section that shows where in the Bible the accounts could be found.
I really appreciated that the discussion questions were simple and could be answered by all of my children. Some of the questions really got conversations started that continued until dinner time when Daddy T could join in. I loved that this was able to get the whole family talking about Jesus and the events that surrounded his birth and ministry.
When I very first began this series, I thought that I would use it for Popper and B to watch at night, or even as a family. However, I ended up showing it to Popper, Brother Bear, and Sister during our video time once a week. We would then read the Bible portions out loud and answer any questions that they may have. I loved watching how intently the littles watched the videos. They really enjoyed them!
Daddy T was a little sad that we were watching the videos without him during the day so he began watching them of a morning before work. I wish I could have gotten a picture of him watching intently for you, but he gets up at 4 am and I do not (mornings and I are not friends)! He says that he is enjoying learning more about the history that surrounds the Gospels.
I think this was a great addition to our homeschool. We are not completely though the series yet, but we look forward to our weekly video and discussion as we continue. It is definitely a resource that we will use for years to come. I think that as my kiddos get older they will be able to better understand the timeline and series of events that were happening during Jesus's ministry.
You can connect with Drive Thru History® on Facebook, YouTube, and Instagram.
There were other members of the Homeschool Review Crew that received a copy of Drive Thru History® – "The Gospels" as well. You can read all about their experiences and how they enjoyed it by clicking the link below: