When given the opportunity to review a program called Times Tales by The Trigger Memory Co., I jumped on board.
I remembered how hard it was to teach B when he was in 3rd grade and I have been dreading teaching Popper next year. I know that Popper has struggled with memorizing his addition and subtraction. I was hoping to find something that would make it easier on him and help cement it into his mind.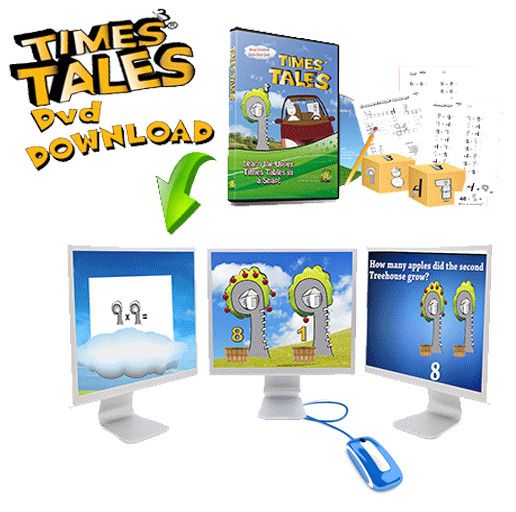 We received a digital download of 2 different level Times Tale videos, this is everything that is available in the DVD. With the digital download, we also received a PDF of worksheets, crossword puzzles, flashcards, tests, and dice that we can use to help reinforce what is taught in the videos. When you order the digital download, you receive your online access within 24 hours!
Times Tales uses a really neat method to help teach the upper times tables to kiddos. They assign a character to each of the numbers and then create a story to help remember the multiplication problem. I remember when B was learning his, 6, 7, 8, & 9s were so hard. I really wish I had had this program to help him.
I was optimistic that this would be something that I could use with Popper next year. I NEVER expected what happened next.
When I started the videos, Popper asked if he could watch with me. Of course, that meant that Brother Bear and Sister wanted to be a part of it too. I placed my laptop on the ottoman and started video 1. To say they liked it, might be an understatement.
I loved that the kiddos were enjoying the video, but that wasn't the true test. After the video, we started talking about what they watched. All 3 kiddos were remembering it. Brother Bear and Sister could remember the characters and their stories. Even better, Popper remembered all of them! He knows his upper times tables!!!
This program is fantastic! My sweet boy has a hard time remembering that 7+4=12, but he can certainly tell you that 7x4=28 I love this! He may be learning things a little backwards, but he loves these videos and learning his times tables. That makes me happy. We are learning the one thing I dreaded teaching in a fun, stress-free way!
Popper isn't a visual learner, so the flash cards aren't his favorite. However, he loves the dice. He loves rolling them and telling me the answer. One night, he forgot to put them away, and they got stepped on. I loved that I was able to just print off another set for him.
Times Tales has been a fantastic resource in our classroom. If your kiddos is struggling with memorizing their times tables, you could check this out! I never would have guessed that it would have worked this great!
If you are still skeptical if Times Tales will work for you, they have a free sample download on their website for you to try.
You can find The Trigger Memory Co. on Facebook.
You can find other reviews by the Crew by clicking the banner below: