One of our favorite activities in the Crunchy House is Art. My kiddos love to draw and paint just like their daddy. I love watching them create new pieces of art to hang on our art wall. What I do not like, is cleaning up after the painting, the waiting for the paint to dry, and the general mess that comes with paint. With that said, you will understand my sheer excitement when I found Kwik Stix 12 pk by The Pencil Grip, Inc.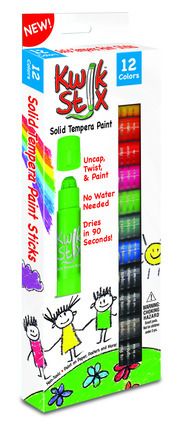 These amazing little things are actual tempura paints in a solid form that dry in 90 seconds. Yes, you read that right, 90 seconds! I could not wait until our package arrived! I wanted to get pictures of it, but when it came, I was so excited, I tore it open without thinking! We received the Kwik Stix 12pk classic colors. There are also a metallic and neon colors available.
To say that the crunchy kiddos love these would be an understatement. These kept them busy for over an hour that night creating art. Even Daddy enjoyed them. He jumped right in and began to create along side the kids. My favorite part, there was no clean up involved! My kids just spent over an hour painting and I didn't have any clean up! SERIOUSLY!
These amazing sticks of paint are very similar to a glue stick. This made it super easy for the kids to grab and paint away. I will point out that there is not a point on these paints. They have a rounded top, which is perfect for my preschoolers, but may present frustration to a child wanting to be more detailed in their painting. I did caution the crunchy kiddos not to press too hard because they will mash. Brother Bear has a tendency to press very hard on markers and crayons usually. I did not want him to be upset when he realized that these would be ruined if he pushed too hard. All it took was me mentioning it to him and he was able to adjust his pressure to fit the paints!
With kids that love creating art daily, these were a sanity saver for this momma! No longer do I have to avoid art time because of the mess. No more collecting paint shirts, paints, brushed, water and towels when it's painting time. Now, I happily allow them to paint and create all on their own knowing that there won't be the mess afterwards.
I knew that I had to share these with everyone that I knew! I took mine to the preschool department at our church to show the director, she ordered some last week! She loved that they dried quickly. She explained how they avoided painting because they didn't want to send home wet art work with the kids after church. Now, she is free to allow the kids to paint in class!
We also have a 'Bridge Builders' program at our church for special needs kids. The lady that runs the program thought that these would be great for her kids as well!
Kwik Stix are WONDERFUL!
This is now our go-to art medium for the crunchy kiddos. They love creating art masterpieces to display on our art wall! Here are a few of their creations:
The Pencil Grip Inc. also sent a sample of one of their pencil grips. They sent me their newest grip, The Pinch Grip. This grip is designed to help place the hand in the proper position to write correctly. You can download a free 'Chart of Correct and Incorrect Handwriting Positions' on their website at http://www.thepencilgrip.com/. A great big "Thank you!" to the company for sending this freebie along!
I think the best part is that you all have a chance to win a your very own 12pk of Kwik Stix!!! The Pencil Grip, Inc. is giving one of my readers their very own set. All you have to do is comment on this post, don't forget to leave me your email address so that I can contact you if you win! A winner will be chosen on May 17, 2016 at 9pm. Good luck!
You can find Pencil Grip on social media:
Facebook
Pinterest
Twitter
You can find other Crew member's reviews on The Pencil Grip Inc.'s Kwik Stix by clicking the link below: